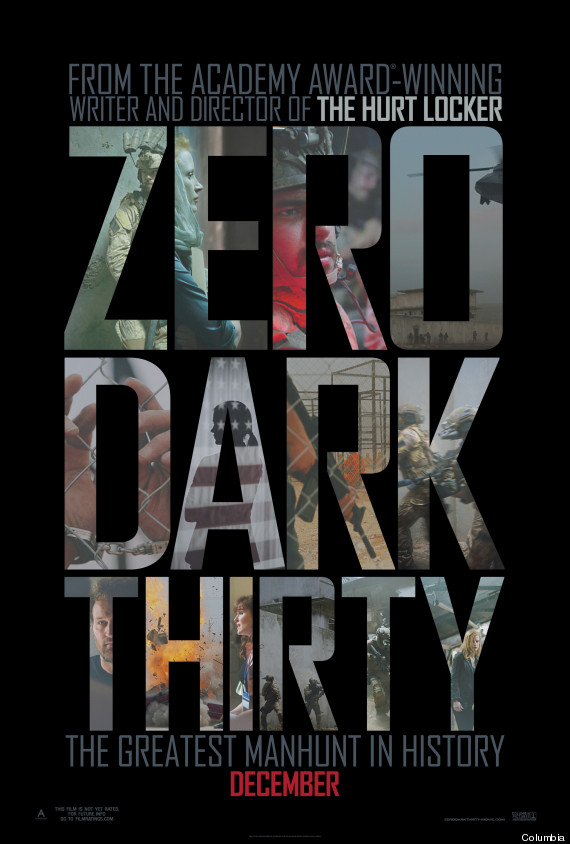 When I found out that "Zero Dark Thirty" was nominated for a Best Picture at the Oscar's this year. I was not surprised because everyone has been raving about it. After finally seeing the film I can see why everyone loved it! "Zero Dark Thirty" is a truly amazing film. If you have been living in a cave for the past year, "Zero Dark Thirty" is based on the true story of finding and killing Osama Bin Laden.
The movie begins with a black screen and we overhear some of the 9/11 emergency phone calls. I found that to be a very effective and emotional way to start the film. The whole movie follows Maya (Jessica Chastain), who is leading the hunt to find and kill Osama Bin Laden. For several years, she is single-minded in her pursuit of leads to uncover the whereabouts of Bin Laden. But finally, in 2011, it appears that her work will pay off, and a U.S. Navy S.E.A.L team is sent to kill or capture Bin Laden. But only Maya is confident Bin Laden is where she says he is. As most of you probably know this movie is quite controversial because of some of its depictions of torture. Honestly, I don't see what the big deal is, the scenes were nothing WAY to extreme like some people were claiming.
The story of the movie itself is FANTASTIC. Obviously we all already know the whole story but Mark Boel puts great detail into the script and it makes the whole movie so incredibly interesting and emotional. I also think this movie has a great blend of drama and action. Because there's a lot of both in the movie. The direction of the film was also FANTASTIC and it's really sad to hear Kathryn Bigelow got snubbed for a Best Director Nomination at the Oscar's because she really deserved it. But at least the movie itself and Mark Boel got Nominations.
"Zero Dark Thirty" has an amazing ensemble cast! Almost as good as "Les Miserables". Some of the cast includes K
yle Chandler, Jason Clarke and Mark Strong. You also have Joel Edgerton and Chris Pratt who play two of the Navy S.E.A.L.S. They are in the movie for a short amount of time but they give great performances. However, the best performance came from Jessica Chastain, she gives a fantastic performance that's probably one of the best of the year. I think she has a Best Actress statue headed her way Oscar Night. I can conclude that this is the best movie she has done so far. So kudos to the whole cast of "Zero Dark Thirty" for GREAT performances.
I think the main reason I loved this movie as much as I did though is because of the pure suspense during the raid sequence at the end. I have never had sweatier palms while watching a movie. It's a truly pulse pounding, gripping, action packed, and climatic ending to the film. I would go as far as saying it's one of the most suspenseful endings in film history. When I left the theater my heart was still beating very hard. Yeah, it's that suspenseful. I could also probably say it's one of my favorite "based on a true story" movies. Those reasons right there should make you want to go out and see this film right now!
I really don't have any nitpicks for the movie. Although I was a bit displeased with the ending (not the obvious one, there's one after that). But honestly, that's it. Some have said the running time is too long but it needs to be that long so they can include all of the fascinating details that they did. I will also say at times the movie did confuse me a little bit because of all the different names being mentioned in the movie and also because of the constant change of the setting/location. But after a while I got used to all that.
Overall, "Zero Dark Thirty" is not only one of the Best Movies of 2012. It is also one of the more important movies of 2012. Meaning, I think everyone should see this film because it's so fascinating, so emotional, so interesting, so gripping, and so intelligent. Not to mention it's an important part of our history (After all, the film's slogan is "The Greatest Manhunt in History"), and I can tell you that I learned quite a bit from this film. Also as of right now, I think this film will take home Best Picture at the Oscar's, although I have some more movies to see before then! We may have a better idea of what awards this film will take home Oscar Night after the Golden Globes coming up this Sunday.
Verdict: 5 out of 5
This film also gets the award for BIGGEST JUMP SCENE IN A MOVIE EVER. I won't tell you when it is, but BE prepared because I swear I almost had a heart attack after it! There are actually several jump scenes in the movie, but you will know the jump scene I'm talking about right after it happens because you will most likely fly back in your seat.