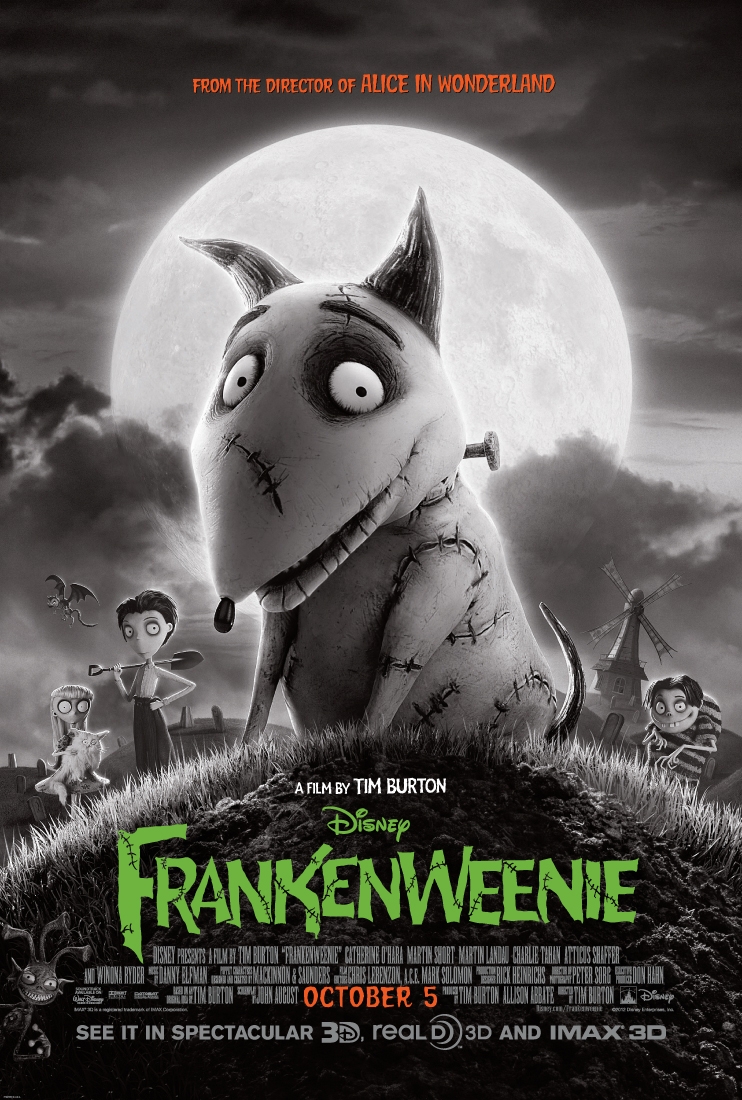 If you didn't already know, I am a HUGE Tim Burton fan! I have seen almost every one of his movies and almost always love them! So when I heard he was doing another stop-motion film, I was so freaking excited!! After seeing the movie I can say the excitement payed off because "Frankenweenie" is GREAT!!
"Frankenweenie" is fully in black and white, which I really thought added to the movie! And the setting is in the town of New Holland. Where a young boy named Victor lives, along with his parents and his dog Sparky, who's his best friend. One day Sparky gets hit by a car (Not a spoiler!) and Victor is devastated, but his science teacher inspires him to bring him back to life! And...it works! Now the challenge is for Victor to keep Sparky hidden, and lets just say that comes with some unintended consequences.
The movie's story really works! And I found it to be very interesting and even a little sad. That happens because this is a Tim Burton film, and you know your gonna get memorable images and an emotional effect. The script also includes cinematic references to classic monster and horror films, and I thought that was a great touch to movie! Along with all that, the dialogue in this film is brilliant! Thought is put into every line!
The voice cast in this film is great! It includes Catherine O'Hara, Martin Short, Winona Ryder, and Atticus Shaffer. There isn't really a stand-out voice actor, because they all did a great job!
The opening scene of this movie is one of my favorite parts of this movie. It starts with the family wearing 3D glasses, and there watching one of Victor's own stop-motion movies. I don't know why, but I thought this was a great start to the film!
Another thing I loved about "Frankenweenie" was the stop-motion animation. It's totally Burton's style and its really cool to look at! Like I mentioned earlier, I loved that the movie was in black and white! It really enhances the experience! I also thought a lot of the scenes in this movie were quit deep for an animated movie! But I mean that in a good way!
I really have no complaints for "Frankenweenie", I thought it was a REALLY great movie!!
Overall, "Frankenweenie" is definitely my favorite animated movie of the year so far, and is another great Tim Burton Film! I think everyone should see this in theaters! Take the whole family! (If age permits, because the movie can be a bit scary). I think the main target audience of this film though is Tim Burton fans, and movie lovers! If your either of those, you will absolutely LOVE the movie!
Verdict: 4.5 out of 5
I should also add this movie has yet another fantastic score done by Danny Elfman! You should go see it just for that reason!